Nowadays, the experience of Africa Kenya Safaris has become highly developed and popular with a wide array of tourism companies, and tour operators welcoming several visitors every year. A safari in Kenya offers mesmerizing natural beauty in one of the cleanest environments in the world and lets you enjoy the serenity of nature and Africa's most famous animals. Apart from that, the experience of visiting Mount Kilimanjaro makes the safari experience memorable and unique. Moreover, the Masai Mara village along with Lake Nakuru offers amazing wildlife viewing of varied and rich bird life and animal life for a Kenya Safari holiday. Kenya's wildlife includes animals such as numerous zebras, lions, leopards, cheetahs, rhinos, jackals, elephants, and more with birds like storks, ostriches, flamingos, etc. So, if you have a secret desire to gather an unforgettable experience of Africa Kenya Safaris then choose a reliable tourism company that offers great service.
More about Africa Kenya Safaris
The best time for traveling to Kenya can be any time of the year as it has to offer a wide variety of things and activities year–round. But the beauty of wildlife can be best enjoyed from January to March and June to October. The safaris can be arranged for maybe 3 days, 4 days, 5 days, or more but the popular and best-rated tourism companies like Ice Rock Trekking recommends their visitors to go for 3 to 4-day Africa Kenya Safaris for exploring the beauty of one of the most beautiful Kenya Game Reserves. However, The Ice Rock Trekking has come with a popular and most chosen Kenya safari which extends up to 4 days and the entire trip will get discussed below.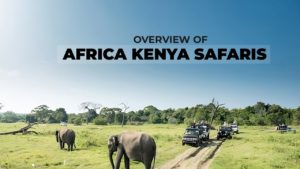 4-days Kenya Safari Trip Itinerary
Ice Rock Trekking Company arranges a 4-day trip safari in the following way:
Day 1 starts with driving from Nairobi to Masai Mara where both lunch and dinner are included. You can also choose to stay in lodges or camp safaris located within the Game Reserves.
Day 2 trip includes all three meals of a day along with wildlife viewing in the Masai Mara Game Reserve and an excursion to the local Maasai village. You can invest this day to know more about the locals of Maasai village, their way of life, and different aspects of their life such as their homesteads, food, clothing, wedding ceremonies, traditional medicines, and more. Apart from all these, you can also enjoy the largest wildlife safari reserve.
Day 3 starts with having a delicious breakfast and driving towards Lake Nakuru and a safari tour to the spectacular Lake Nakuru National Park.
Day 4 or the last day of the trip ends with driving back to Nairobi through the vantage point of the Great Rift Valley.
End Note
So, for choosing a trip plan to Africa Kenya Safaris or want to customize your own safari trip you must contact Ice Rock Trekking which is considered one of the best safari tour organizers in Kenya. Right from trekking safaris in Mt. Kenya to wildlife safaris in different national parks of the country – Ice Rock Trekking has diverse solutions.