Trekking the Rwenzoris in Uganda
As early as 150 AD Ptolemy had written of the "Mountains of the Moon", where snows fed the lakes and sources of the Nile. The Rwenzori Mountains are located on the border of Uganda and the Democratic Republic of the Congo. Although the isolated volcanoes of Mt. Kilimanjaro and Mt. Kenya are taller, they are the highest range of mountains in Africa with the highest summit of Mt. Stanley (otherwise know as Point Margherita) reaching 5109 meters. When the peaks were first explored at the end of the 19th century, there were six separate massifs that held glaciers on their flanks. At this point, the number with glaciers has dwindled down to just three, with one of those holding only tattered remnants of its earlier glaciation.
These massifs offer great attractions to climbers, walkers and naturalists. There are several endemic species of birds including the brilliant Rwenzori turaco. There are also monkeys, red forest duiker, hyrax and leopard. Some elephant and buffalo live in the lower valleys. Though the flora is similar to other East African mountain ranges it is exceptionally luxuriant mainly as a result of the high rainfall in the area; however, from mid-December to the end of February and from mid-June to mid-August there is little rain and good climbing weather.
On this ten day itinerary you will journey seven days and up to six nights deep into the Rwenzoris Mountains of Uganda with the goal of hiking up to Margherita Peak at 5,109m. This is a fully porter-supported trek involving some difficult terrain comprising bogs, deep undergrowth & boulders but the difficulties underfoot are easily made up for by the exotic vegetation and scenery.
Entebbe International Airport – Kampala
On arrival at Entebbe International airport pickup and transfer to the hotel of your choice in Kampala. Dinner and overnight.
Kampala – Kasese
Your driver/ guide will pick you from your hotel at 8:00 am from where you will start the drive to Kasese via Fort Portal. The journey takes about 7-8 hours driving through traditional homesteads and farms. Stopover in Fort Portal town for lunch. Later proceed to Kasese viewing the mystical Rwenzori Mountain range for much of the journey. Arrive Kasese to make preparations for your hiking equipment that will be used the next morning. Dinner and overnight.
Nyakalengija – Nyabitaba Hut, 2,652m.
Hiking time: 5-6 hours
Habitat: Rain Forest
Drive from hotel to the park headquarters at Nyakalengija in the early morning from where you will receive a briefing from the guides and select porters. The hike begins by leaving the park headquarters 1,646m. Walk past typical "watt and mud daub" Bakonjo homes, through elephant grasses then arrive at the park boundary in about 40 minutes.
The trail follows the Mubuku River crossing recent landslide areas. Reach the Makoma River after 2 hrs. After crossing the river, you will have a very steep climb through open bracken fern slopes and podocarpus forest up to Nyabitaba Hut, 2,652m., which is the arrival point for the day. This will take from 5 to 6 hours. Have dinner and overnight.
Nyabitaba Hut to John Matte Hut
Elevation (ft): 3,350m
Hiking Time: approximately a half-day
Habitat: Moorland with some Bamboo Forest
The day starts from Nyabitaba camp and follows the trail that drops down through the forest to the Kurt Shafer Bridge, just below the confluence of the Mubuku and Bujuku rivers. We will pass through an interesting bamboo forest and traverse through a long and exhausting stretch of slippery moss-covered rock. From the Nyamileju rock shelter, Mount Stanley and Mount Speke can be seen before passing into the zone of the giant heather, lobelia and groundsel. Finally reach John Matte Hut after passing through the tiring bog. Dinner and Overnight.
John Matte Hut to Bujuku Hut
Elevation (m): 3,977m
Walking Time: 4-5 hours
Habitat: Moorland to Alpine
From John Matte Hut, our Rwenzori mountain hike commences with a trail that drops you down to cross the Bujuku River and enters Lower Bigo Bog, the home of giant lobelias. Jumping from tussock to tussock, the bog is finally crossed but rarely without the feet sampling some of the freezing ooze below. The Upper Bigo bog gives way to Bujuku Lake, with views of Mt Baker to the South and Mt Stanley to the West. Bujuku Hut, well located in the shadow of Mount Baker and Mount Speke, is set in a beautiful narrow valley below Stuhlmann Pass. Dinner and overnight.
Bujuku Hut to Elena Hut (4,541m)
Elevation (m): 4,541m
Hiking time: 4-5 hours
Habitat: Alpine, Moorland, and Rainforest
We leave Bujuku hut and follow the trail to Elena Hut as we take you through more bog, while climbing the steep slopes west of the lake and through the magical Groundsel Gully as it ascends to Scott-Elliot Pass at 4,372m.
At the head of the gully a metal ladder takes you over a steep section after which the trail is divided into two. The trail on your right leads up to Elena Hut and Mount Stanley on a steep trail over large boulders, while the trail on your left leads to Scott-Elliot Pass and down to Kitandara Lakes. For those not attempting to climb Margherita Peak the trail on the left leads down to Kitandara Hut where the climbers will be the next day after their summit attempt. Those climbing the peak will have their Dinner and Overnight at the cool and icy Elena Hut.
Elena Hut – Climb Margherita Peak – Kitandara camp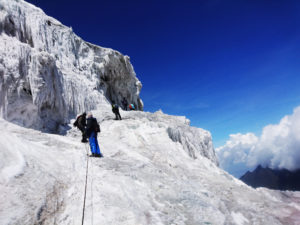 The goal of hiking Rwenzori mountains in Uganda will be achieved on hiking up the highest peak in Uganda – Margherita Peak (5,109m), continuing to the base of the Stanley Glacier. To reach the summit of Margherita the climb takes about 5-7 hours depending on weather conditions and the pace of your climbing group on this mountain. This tough walk takes you over three glaciers, slippery rock, ice and very exposed areas which are open on many sides.
Note that this climb is for only physically fit climbers familiar with crampons and safety ropes. For more experienced technical climbers feel free to discuss a Mount Stanley attempt with us.
Climb on to the glaciers, cross the Stanley Plateau and proceed with the ascent. Acclimatized to fog, altitude sickness and cool weather, scramble up to the summit of Margherita the highest peak of Mt. Rwenzori. Given the high altitude and the tough conditions even if you do not reach the peak, don't get disappointed. Prepare for your 2-3 hour return through the Scott-Elliot pass to camp, where there are spectacular views back to Bujuku Lake and Mount Speke, up to Mount Stanley and down to the Kitandara Lakes. After the trail passes through an alpine zone of sparse vegetation and rough boulders, descend past the Kitandara Lakes for dinner and overnight at Kitandara Camp.
Kitandara Hut to Guy Yeoman Hut (3,260m)
From Kitandara, take on the trail that ascends steeply up the head wall, spreading out from the base of Mount Baker and continuing along the south side of the mountain to Fresh field Pass. At this point you can view Congo on the west and Mount Stanley on the north hence making a great mountain hiking safaris in Uganda thereafter take on the long trail passing the rock shelter at Bujongolo, the base camp for the historic expedition by the Duke of Abruzzi in 1906. Overnight at Guy Yeoman Hut.
Guy Yeomen Hut – Nyakalengija – Kasese (2,650m)
Elevation (ft): 12,700ft to 13,800ft
Hiking time: 4-5 hours
Habitat: Alpine, Moorland, and Rainforest
As we put an end to our hiking Rwenzori mountains in Uganda trip, we take on the path down to Nyabitaba hut. The path can be slippery and muddy hence experiencing the tough way of hiking Rwenzori mountains in Uganda, therefore hiking requires careful balancing over the vertical mud or steep rock. Remember this is part of the adventure within this mountain. Overnight at Nyabitaba Hut, here depending on your fitness you can continue to the starting point and be out of the park on Margarita Hotel.
Day 10: Kasese – Kampala
After late breakfast from the trail or hotel, depart for Kampala with lunch en-route. Along the way you will see banana plantations, undulating hills and the Ankole long-horned cattle. Stopover at the Equator for a lifetime photo shoot. The stop at the Equator will also give you an opportunity to be both in the northern and southern hemispheres all at the same time.Stop over at any of the drum makers stalls or other craft shops just in case you need to buy souvenirs. Proceed and arrive Kampala where you will check int to your hotel for dinner and overnight.
Fitness enables fun
Hydrate excessively
Polé-polé (ask if you don't know!)
Stop & Listen
TIPS & TRICKS
After leading many successful trips into the mountains there are several "trekking-hacks" we like to tell our clients to help them better enjoy their time in the mountains.
Ski sticks are useful when ascending the scree to the summit.
Ski sticks also help protect your knees when traveling downhill!
Filling your bottle at night with hot water creates a comforting heating pad to slip in your bag or beneath your pillow
Powdered drink mix / sports mix helps with maintaining hydration (Tang, Gatorade, Lemonade)
Find a pace to your hiking that you could keep at all day.
Remember to pack some of your favorite snacks for a break on the trail.
Accommodations:
Accommodations on the route are in either roomy two person tents or huts.
The huts are locally called "bandas" and were erected by the park service. Sleeping in a banda in a bed can be warmer than staying in tents but they do have a small added cost if you desire to book them for your adventure.
The tents can provide more privacy and are usually erected for you when you arrive, although if you want a particular position it's worth taking charge. In the mornings it helps everyone to get away early if you lend a hand with taking the tents down.
Acclimatization:
Acclimatization is extremely important, both to let you enjoy your ascent but more importantly to avoid any serious complications. The route is planned to optimize the height gain, but you may still get a headache or feel nauseous. There are two important preventative measures: to drink copiously, even when it is really difficult, and to walk very slowly, avoiding as much as possible increased heart and breathing rates.
A drug is available, Diamox, from your doctor which is well proven to help with acclimatization. This is taken as tablets for a few days before and then during your ascent. It is safe and has no serious side effects.
It is important to remember that one possible effect of altitude is light-headedness and odd behavior, which can lead to foolish decisions. The danger here is someone who is not well insisting on continuing. Watch each other closely.
Water & Washing:
Water is available at several points and should be purified before drinking. All water in camp will be boiled and some provided for drinking the next day. A comforting tip is to fill your bottle in the evening with boiled water for the next day, and to use it as a hot water bottle overnight. Check with your guide where the water points are.
Washrooms are available at the huts but not the camps. Some camps have several and so it's worth checking for the cleanest. If you are caught short during the walk, please find a spot as far as possible from the trail and any water. Bury your feces and paper. It is often easiest to move a large rock and use the indent as a hole. Mark your spot by balancing a couple of stones.
Trekking Fitness:
Most hiking is strenuous, but not technical climbing, and no mountain-climbing experience is necessary. But there's no avoiding the steep ascents and high altitudes that make robust physical fitness (and a minimum age of 11 years) a prerequisite for any trip. You'll want to consult your physician before undertaking this unforgettable adventure.
Mountain Cuisine:
The menus for all climbs are specially prepared to provide a balanced diet of fresh fruit, vegetables, plenty of protein and carbohydrates. We have tried to choose food items that are easiest to digest at high altitude.
Dinners are typically a main course with vegetable and salad. Chicken and fish are served at some of the days during the climb, with pastas and rice dishes being served in the middle of the climb while up high.
Lunches are often on the trail and usually consist of cold cuts and vegetables laid out on a table so you can make your own sandwich. Fresh hot vegetable soups are served at every meal, and packet soup is available on request between meals as is coffee and tea.
Breakfast is your choice: granola, toast, fruit, eggs, and sometimes pancakes or French toast.
Kitchen Safety:
Food and kitchen equipment will be carried by the porters and cooked by an experienced cook. It will be plentiful and wholesome but may be limited by the circumstances. Our cooks undergo extensive training and we have ongoing workshops to review menus. The cooks are particularly vigilant in their hygiene practices as contracting stomach bugs is common for visitors to the developing world.
Your own supply of chocolate and high energy snacks is a recommended.
While hiking some people have a favorite food that they like; it is a good idea to bring this from home.