Amazing service
"No need to hire foreign tour operators when the best live right in Nairobi" – Paul Bradley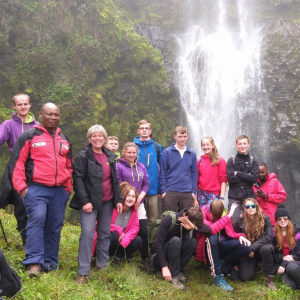 Years of Trust
"Every year the school I work for does a field trip to Mt. Kenya and every year we employ Joseph and his company to organize and guide our trip. Over the years we have grown to know and trust Joseph with our safety, which is our number one concern. He and his guides have expert knowledge of, not only the conditions on the mountain, but also how to handle unexpected events, such as sickness, fatigue, and medical needs.

The last time I climbed with Joseph, we had a member who became very sick and fatigued, and Joseph made the difficult call to find a way to get this guy off the mountain. It would have been dangerous for him to continue and there was no reason to risk his life for this adventure. Getting him down was a challenge as the mountain is so remote, but with Joseph's connections to many people in the area, he was able to do so without stopping the expedition for the rest of us. A huge shout out to Joseph and his company!!!"
– David Tilley, Rift Valley Academy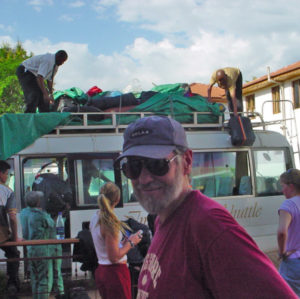 Repeated Success
"My first trek with Joseph was up Mt. Kenya when he guided a group of five of us. The trek was fantastic – Joseph chose routes with spectacular views, good camping sites, and really very private trekking. That was such a success that a few years later, I contacted Joseph again and asked him organize a larger group for a trek up Mt. Kilimanjaro.
His expertise made the trek a great success – he suggested an extra day in the assent to acclimatize, got my brother off the mountain when he got in trouble, coached us how to manage the final assent to the peak, and really just handled the trek superbly. I am about to turn 80 and am ready to go with Joseph again."
– Stephen Bradley
Dedicated Pros!
שמי פליקס מלול וברצוני לומר מספר מילים על הניסיון שיש לי עם JOSEPH והצוות שלו.
אני מכיר את JOSEPH מעל ל-10 שנים וטיילתי וטיפסתי על מספר הרים באפריקה יחד איתו ועם ציוותו.
טיפסתי על הר קניה, הר קילימנגרו,הר סטנלי באוגנדה וגם עשיתי ספארי עם משפחתי בקניה.
הדבר הכי חשוב בטיולים מהסוג הזה זה שיהיה צוות מקצועי ומסור שנותן לך תחושה שאתה נמצא בידיים בטוחות ושיש מענה גם לדברים בלתי צפויים.
בשורה התחתונה מאוד ממליץ למי שרוצה לטייל באפריקה ולטפס על הרים או לחילופין לעשות ספארי לעשות עם JOSEPH והצוות שלו.
בהצלחה ואפריקה היא יבשת מרתקת וכיפית לטיולים!
– Felix Mallul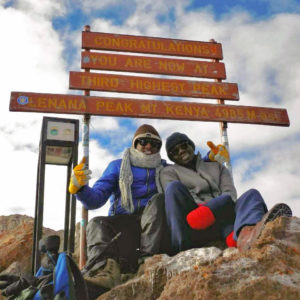 Knowledgable
"I had the pleasure of hiking to the top of Kilimanjaro with Joseph and his team. His team is built with local porters, cooks and mountain guides that bring a level of knowledge about the area that was unsurpassed. They could answer all my questions about the flora and fauna which is not easy since you start at the rainforest and end up on rocky tundra.
Joseph does a wonderful job of welcoming his guests and preparing them for the days on the trail. This allowed me to feel comfortable and ready to hike on day one and through out the trek.
I felt such an accomplishment upon reaching the summit and thoroughly enjoyed my trek up Kilimanjaro."
– Jessica Durkin
Verified
Super experience of Mt Kenya with Icerock Trekking I felt our whole experience of Mt Kenya was amazing. From getting in touch with the organisers to the actual hike itself, we were provided with great service, super itinerary and lovely people. We did the Sirimon route both up and down, and although the weather could have been challenging, we manage to make the best of the weather possible. We were driven to the Sirimon entrance from Nanyuki where we were welcomed with lunch, followed by the hike up to Old Moses camp. The food throughout was excellent and didn't have any problems whatsoever. The views are stunning and our guide was lovely and super knowledgeable too. Would highly recommend Icerock Trekking to anyone who is looking for a challenge and adventure up some of the highest mountains in Kenya. Thank you guys!
Verified
Mt. Kenya Interim Hiking Mt. Kenya was a new experience during which I earned greater appreciation for God's creation and being immersed in it. I was very thankful for our guides who took good care of us and made good choices.
Verified
Incredible experience, absolutely recommend! Hiking Mt. Kenya with Joseph's team was an incredible experience. He was extremely communicative and helpful which made planning the trip extremely easy. Our guide, porters, and cook were all awesome - I have nothing but positive things to say. The food was delicious - the best I've ever eaten while on a mountain! It was all cooked hot for us and there was more than enough. Joseph also came to pick us up and stayed an extra night to drive us to a safari and then back to Nairobi. He was always on time, patient, kind, reasonable, and accommodating. I would HIGHLY recommend Joseph and his team to anyone and will choose to work with him again.
Benjamin F
March 24, 2023.
Verified
Only the best. I cannot express how wonderful the trip was. I found nothing to complain about, and everything, from food to hiking, was an amazing experience that I would recommend to any who like a bit of adventure.
Verified
Mt. Kenya Joseph organized the trip around my schedule and the guide, cook, and porter made it a very pleasant experience. Joseph always answered emails promptly and made last minute changes without a problem. I highly recommend his company and plan to use him in the future for Kilimanjaro and hopefully a summit of Batian on Mt. Kenya.
j0henley
February 17, 2023.
Verified
Joseph is excellent - a great guide and fountain of knowledge Could not recommend Joseph and his team more highly. Joseph used to work on the Mount Kenya Rescue Service so you could not be in safer hands for the challenging but stunning hike up Mount Kenya. Our climb was made difficult because of bad weather and visibility, with rain at the bottom and a lot of snow at the peak. The equipment provided by Joseph (tent, poles etc) could well withstand the incessant rain, and the team adapted well to the unexpected conditions. The vegetation and birdlife on Mount Kenya is truly unique and Joseph was able to answer every question we had and told some incredible stories (as Paul said in his review, ask him about the Buffalo - we were gripped!). All the food provided on the hike was delicious and at no point did we go hungry. Joseph provided a really helpful kit list and advice about staying safe and comfortable on the mountain. Joseph also organised a wonderful homestay for us with his brother (Robert) and his family who welcomed with hot showers and a huge meal. Joseph's knowledge extends far beyond Mt Kenya, and he can provide tips and advice on your whole trip, not just the Mt Kenya (or other) climbs.
Lisette K
February 17, 2023.
Verified
Mt. Kenya evacuation and great care from Joseph In November we decided to book a mount kenya trip for February. After doing some research online we came across a youtube video of Jasper Epsom who climbed together with Joseph. We got in touch with Joseph via email and the response was almost immediate. When he is not in the mountain without signal he is always reachable per phone or email. He explained us about the itinerary and the different options we could choose from. Based on that, we decided to go for the Chagoria-Sirimon route. It's a 5 day hike including all foods, drinks and pickup and drop off to Nairobi.10 days before our trip we both got a bacterial infection and after consulting Joseph we decided to move our start date which gave us a little more time to recover. Very very nice that this was possible in his schedule. Due to the fact that we moved dates, we climbed together with his brother Robin who is also a very experienced guide and can tell you all about the vegetation and the mountain in general. Joseph was also on the mountain guiding another group so we still spend time together in the camps! Mount Kenya is not only extremely beautiful but also very quiet. If you are lucky you see some animals and even birds are just sitting next to you at the tent. Unfortunately on the second day the bacterial infection came back with my partner and it went very bad in a short time. In the middle of the night we decided that we couldn't wait until the morning. Joseph arranged all the necessary transportation to get us off the mountain. Safety first!! Robin joined us for the entire travel to Nairobi and made sure we arrived safely in the hospital. After 4 days in the hospital he is out now, and finally walking again. We want to say a huge thank you to the great care and support of Icerocktrekking. In case you have any doubt about health and safety protocols, well.. we have experienced them ourselves and they are great 🙂 They take good care of you and in case you don't feel well they take it very seriously. Being sick is not great but being sick on the mountains is dangerous and good care is necessary. Even though we only had 2 days on the mountain, those 2 days were already beautiful. Highly recommend to climb mount Kenya in case you have the chance!
Verified
Incredible experience - recommend Joseph & the team provide an absolutely amazing experience of climbing up Mount Kenya. It's an astonishingly beautiful trek (but quite difficult!) and Joseph provides:1. Great character and humour 2. Great equipment (tent, food etc)3. Good advice (for avoiding altitude sickness, organising a Home-Stay etc)4. Incredible stories - ask about the Buffalo!Couldn't recommend more highly
Hadar Weinstein
January 7, 2023.
Verified
Mount Kenya and Maasai Mara trip!! As an 18 year old coming alone to Kenya for the first time, Joseph and the Ice Rock Trekking crew were extremely accomodating and friendly. Throughout my two week trip climbing Mount Kenya and doing safari in Maasai Mara and other national parks I felt very safe, while being able to experience the Kenyan culture. I fely very comfortable as Joseph was flexible and patient with me throughout the journey, while offering a more than reasonable price. Would highly recommend!!I can also suggest requesting Lofa as your porter. #1 chef in Kenya 🙂
Verified
The adventure begins at the moment Joseph arrives at our door! The adventure begins at the moment Joseph arrives at our door! As a family, we have climbed Mt. Kenya and Mt. Kilimanjaro with Joseph. He and his teams work so well with my early-teenage kids. Whether we are camping in tents or trekking to huts on the mountain, Joseph plans for safety and success. He deeply cares about his mountains and hopes his clients grow to love wild places, too. I'm looking forward to our next adventure!