Kilimanjaro
7, 8, 9 day itineraries
Top Routes!
Reach the roof Africa!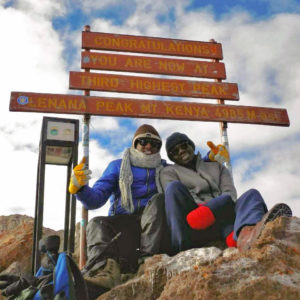 Mt Kenya
5 day itineraries
Less crowds, more scenery!
2nd highest in Africa!
Climbing
6-11 day itineraries
Mt Kenya specialists
Only 250 succeed each year!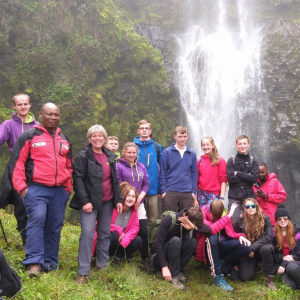 School Trips
Custom Mt Kenya itineraries
Comfortable with any size group trip!
Trip of a students lifetime!
Trekking
We specialize in helping both seasoned hikers and novice walkers achieve their goals of a rewarding expedition to the heights of Africa. We prefer guiding trips on three main routes to Kilimanjaro as well as three main routes to Mount Kenya. We also guide a trip to the Rwenzoris and Mt Stanley.
If you have conquered all of those mountain areas we can also create custom tours in the Aberdares, the Loita Hills, the Udzunga Mountains and other off the beaten path trips.
Climbing
Ice Rock Trekking is one of the few Kenyan tour operators that is qualified to guide technical rock climbers on trips to Mount Kenya. In fact the first name for our company was "Ice Rock Climbing" so we know how to plan and prepare for the needs of climbers which is distinct and different than trekkers. Only a few hundred people make the tricky climb to the true roof of Kenya and we are experts at providing informative and safe route descriptions and onsite guiding.
Safaris
A trip to Africa is not complete without seeing "the Big Five" which are the elephant, buffalo, rhinoceros, lion, and leopard. Safaris are an especially delightful experience to enjoy after the hard work of summiting some of Africa's highest peaks. Ice Rock Trekking can organize a tour that brings you up close and personal with amazing wildlife in their natural habitat. The Masai Mara is one of the world's treasures and something that should not be skipped when visiting Kenya or Tanzania. We can also organize gorilla safaris!
Let us help you
Ever imagined the excitement of summiting Mount Kilimanjaro Africa's highest mountain? Or climbing the awe inspiring and beautiful Mount Kenya? And coupling that achievement by celebrating with a unique wildlife safari? Whatever your taste for adventure, ICEROCK can delight you and your fellow travelers.
ICEROCK, a Kenyan tour company, is managed by Joseph Muthui Gathu, a pioneer mountaineer and graduate of the American National Outdoor Leadership School. He is a former member of Kenya's Mountain Rescue Team and spent 13 years working in the mountains before setting up Ice Rock Trekking in 1997.
Due to Joseph's superior mountaineering skills, coupled with his team of experienced professional guides, ICEROCK quickly became one of the premier companies offering mountaineering adventures in Africa. Joseph's professionalism and skills have been recognized by various travel books having been included in The Rough Guide To Kenya and The Lonely Planet's East Africa Trekking Guide which recommends him as a leading guide. Joseph's company has achieved further accolades through being selected as renowned mountaineer Tim McCartney Snape's choice for providing contracted services for his trekking climbs to both Mount Kilimanjaro and Mount Kenya every year.
Let Joseph and his professional guides help you safely experience a true African mountaineering adventure!
with the help of his guides
show you the way in Africa

evelinevandijk2021
2021-06-08
Breaking boundaries with a great support Just back from an amazing experience, and still in an after-stoke! A big thanks to Joseph who has 20 years of experience with guiding you to the limit! Sir Mozes was my (local) guide and he knows exactly what he is doing. He knows a lot about vegetation, history and is very happy to tell you all about it! I certainly may not forget Elisha, who was walking with us to provide our local healthy meals.
Read more

Mount Kenya trek What a great experience with a tremendous guide , Joseph ensure we were looked after from start to finish. After having had a recent heart attack it was important to have an experienced guide to take us at the correct pace . Good first day of low level trekking ensured we were ready for the harder challenges ahead . Excellent food and accommodation proved throughout . Good quality vehicles ensured we had a safe journey from our hotel in Nairobi . Excellent information on the local landscape and animals ensure the trek though hard was also fun . Great time had by both of us
Read more

Excellent service Icerock Trekking provided tours of: Mount Kenya, the Aberdares, Lake naivasha & nakuru and masai mara. The service and attention to deal was excellent.
Read more

excellent I know ICEROCK more than 15 years and I done many trips in Africa together with ICEROCK team. very professional and excellent service. I made mountains climbing as well family safari.
Read more

An amazing adventure with this company in Kenya. Icerock Trekking are an extremely professional company well versed in the wonderful Kenya safari world. We had the most amazing time throughout our years living in Nairobi, Kenya and used Icerock every time we needed to go on Safari and also sent our friends on tour with them. We knew our friends were safe and well looked after while on tour throughout Kenya as their drivers and guides were very qualified. ( Please note: The select one below does not work as we were before these dates and also everywhere was in lockdown in 2020. You need to change your dates????? I just put in July 2020 as it wouldn't continue. Please get you website correct and allow different dates to be put in.)
Read more

Mt Kenya climb Our group of 9 (3 families) climbed Mt. Kenya in December 2019. ICEROCK Trekking guides were knowledgeable and personable. They picked us up and returned us to our accommodation at Kijabe. I would recommend taking plenty of snacks for the 22 mile trek and altitude sickness meds (1/2 pill daily). Mt. Kenya is spectacular! Thank you ICEROCK!
Read more

GeraldineColeman
2021-05-31
Friendly, professional, experienced I have worked with Joseph for many years organing school trips up Mt Kenya and also personal trips up the mountain. Joseph, is friendly, professional and experienced. His team of porters, cooks mountain guides are all local and therefore their knowledge of the area and the different routes is invaluable. They are competent to handle medical issues such as fatigue and sickness. I have worked with Joseph organising groups of 5 - 50 persons, all very professional.
Read more

Excellent Organisation and Guides We conducted a Mt Kenya climb and Safari with ICEROCK. The organisation was excellent, any problems where solved efficiently and to our full satisfaction. The guides and drivers were well experienced, very friendly, careful and helpful.
Read more
Mount Kenya 4 days climb The team at Ice Rock are very professional and if hadn't been for their careful guidance we would not have reached the summit of Lenana. They fed us well with the warming carbs food, and provided good equipment for the camp. All the staff and Joseph the guide and team leader were great.
Read more

Best trip EVER! For my daughter's last spring break in Kenya, we hiked up and down Mt. Kenya, starting at the Chogoria Gate and finishing four days later, walking out at Naro Moru. Joseph was patient, professional and extremely knowledgeable. We ate well and enjoyed spectacular scenery at all levels of the trek. A great hike for anyone with reasonably good fitness levels and proper gear -- it's cold at the top!
Read more