Kilimanjaro
7, 8, 9 day itineraries
Top Routes!
Reach the roof Africa!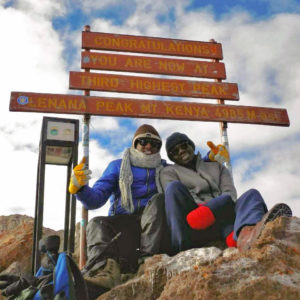 Mt Kenya
5 day itineraries
Less crowds, more scenery!
2nd highest in Africa!
Climbing
6-11 day itineraries
Mt Kenya specialists
Only 250 succeed each year!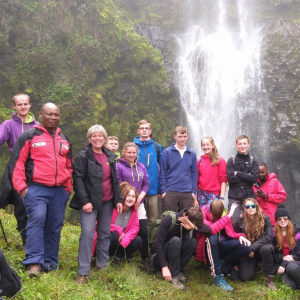 School Trips
Custom Mt Kenya itineraries
Comfortable with any size group trip!
Trip of a students lifetime!
Trekking
We specialize in helping both seasoned hikers and novice walkers achieve their goals of a rewarding expedition to the heights of Africa. We prefer guiding trips on three main routes to Kilimanjaro as well as three main routes to Mount Kenya. We also guide a trip to the Rwenzoris and Mt Stanley.
If you have conquered all of those mountain areas we can also create custom tours in the Aberdares, the Loita Hills, the Udzunga Mountains and other off the beaten path trips.
Climbing
Ice Rock Trekking is one of the few Kenyan tour operators that is qualified to guide technical rock climbers on trips to Mount Kenya. In fact the first name for our company was "Ice Rock Climbing" so we know how to plan and prepare for the needs of climbers which is distinct and different than trekkers. Only a few hundred people make the tricky climb to the true roof of Kenya and we are experts at providing informative and safe route descriptions and onsite guiding.
Safaris
A trip to Africa is not complete without seeing "the Big Five" which are the elephant, buffalo, rhinoceros, lion, and leopard. Safaris are an especially delightful experience to enjoy after the hard work of summiting some of Africa's highest peaks. Ice Rock Trekking can organize a tour that brings you up close and personal with amazing wildlife in their natural habitat. The Masai Mara is one of the world's treasures and something that should not be skipped when visiting Kenya or Tanzania. We can also organize gorilla safaris!
Let us help you
Ever imagined the excitement of summiting Mount Kilimanjaro Africa's highest mountain? Or climbing the awe inspiring and beautiful Mount Kenya? And coupling that achievement by celebrating with a unique wildlife safari? Whatever your taste for adventure, ICEROCK can delight you and your fellow travelers.
ICEROCK, a Kenyan tour company, is managed by Joseph Muthui Gathu, a pioneer mountaineer and graduate of the American National Outdoor Leadership School. He is a former member of Kenya's Mountain Rescue Team and spent 13 years working in the mountains before setting up Ice Rock Trekking in 1997.
Due to Joseph's superior mountaineering skills, coupled with his team of experienced professional guides, ICEROCK quickly became one of the premier companies offering mountaineering adventures in Africa. Joseph's professionalism and skills have been recognized by various travel books having been included in The Rough Guide To Kenya and The Lonely Planet's East Africa Trekking Guide which recommends him as a leading guide. Joseph's company has achieved further accolades through being selected as renowned mountaineer Tim McCartney Snape's choice for providing contracted services for his trekking climbs to both Mount Kilimanjaro and Mount Kenya every year.
Let Joseph and his professional guides help you safely experience a true African mountaineering adventure!
with the help of his guides
show you the way in Africa
Verified
Incredible experience - recommend Joseph & the team provide an absolutely amazing experience of climbing up Mount Kenya. It's an astonishingly beautiful trek (but quite difficult!) and Joseph provides:1. Great character and humour 2. Great equipment (tent, food etc)3. Good advice (for avoiding altitude sickness, organising a Home-Stay etc)4. Incredible stories - ask about the Buffalo!Couldn't recommend more highly
Hadar Weinstein
January 7, 2023.
Verified
Mount Kenya and Maasai Mara trip!! As an 18 year old coming alone to Kenya for the first time, Joseph and the Ice Rock Trekking crew were extremely accomodating and friendly. Throughout my two week trip climbing Mount Kenya and doing safari in Maasai Mara and other national parks I felt very safe, while being able to experience the Kenyan culture. I fely very comfortable as Joseph was flexible and patient with me throughout the journey, while offering a more than reasonable price. Would highly recommend!!I can also suggest requesting Lofa as your porter. #1 chef in Kenya 🙂
Verified
The adventure begins at the moment Joseph arrives at our door! The adventure begins at the moment Joseph arrives at our door! As a family, we have climbed Mt. Kenya and Mt. Kilimanjaro with Joseph. He and his teams work so well with my early-teenage kids. Whether we are camping in tents or trekking to huts on the mountain, Joseph plans for safety and success. He deeply cares about his mountains and hopes his clients grow to love wild places, too. I'm looking forward to our next adventure!
Betina S
August 25, 2022.
Verified
Zum Gipfel via Sirimon Route Ich kann Joseph und sein Ice Rock Team bestens weiterempfehlen. Auf meine erste Kontaktaufnahme reagierte Joseph umgehend und ich konnte mich jederzeit per Mail oder WhatsApp ( auch telefonisch) an ihn wenden. Hier merkte ich schon, dass ein sicherer Aufstieg auf den Mt. Kenya sein oberstes Gebot ist.Nach meiner Ankunft in Nairobi checkte er meine Ausrüstung, die Route wurde nochmals besprochen und in meinem Fall, auf Grund der Wetterbedingungen, angepasst. Zunächst war ich enttäuscht, dass ich nicht auf der ursprünglich gewählten Chogoria Route starten konnte, sondern auf umgekehrter Route vom Sirimon Gate starten würde. Im Nachhinein konnte ich jedoch Josephs Entscheidung 100%ig nachvollziehen, auch dass eine Unterkunft (mit Aufpreis) in den Huts wegen des Wetters, den Übernachtungen im Zelt vorzuziehen war. Sein Team ( 1 Koch, 1 Porter) waren fantastisch. Sehr aufmerksam, hilfsbereit und emphatisch ( als ich nach dem Gipfelsturm mir das Knie verdreht hatte und dadurch beim Abstieg deutlich länger brauchte, kamen sie uns mit dem Frühstück entgegen).Joseph bringt eine jahrelange Erfahrung mit und weiß, wie er es schafft deine Kunden zum Gipfel zu bringen. Durch seine bestärkenden und aufmunternden Worte findet man immer wieder genug Energie um den steilen Aufstieg zum Gipfel zu meistern.Landschaftlich ist der Mount Kenya ein Genuss, man kann sich an den Tälern und der Vegetation gar nicht satt sehen. Der Aufstieg zum Gipfel ist deutlich fordernder, aber mit Joseph und dem Willen es zu schaffen absolut machbar.
julianjmball
August 16, 2022.
Verified
Once In A Lifetime Experience Climbing Mount Kenya With Joseph We had the most amazing time climbing Mount Kenya. Joseph was an incredible guide. He knew how to calm our thirst for adventure and make sure we kept a steady and sensible pace - "polepole" he would say! His knowledge was unreal and we can't recommend him enough. His experience as a mountaineer is clearly well known in the community. Hope to be back in the not too distant future for the next adventure! Julian & Zoey
travelswithfi29
July 23, 2022.
Verified
Great 4 day trek up Mt Kenya! My partner and I did a 4-day trek up Mt Kenya with IceRock Trekking and we would highly recommend! We went up from the Sirimon Gate to Point Lenana and down the Chogoria Route, this allowed us time to acclimatize on the ascent and enjoy amazing views via the Chogoria trail as we descended. If you're an experienced hiker/climber, this length of time is ideal although those with less experience may want to go slower and spend more days on the mountain. Joesph has guided for many years, so he knows the mountain well and we felt very well cared for throughout the trip. His team is kind, knowledgeable, and fun. Food was great (even for a vegetarian!) as well. Make sure to pack layers (it gets quite cold at night) and outdoor essentials (headlamp, TP, water purification, etc.) so that you have them with you just in case. The bottom line - if you're thinking about climbing Mt Kenya with IceRock, go for it! We're already hoping that we can plan a future trip to Mt Kiliminjaro with Joseph and his team.
Verified
Breathtaking tour with guides that became true friends! From the moment we were picked up by Joseph and Moses from the airport we knew that they won't just be our tour guides, but become true friends for a life time.They organized an amazing tour to the Amboseli National Park for us that we will never forget: We spotted plenty of different animals very close, often were the only car around and learned so much about the animals, nature and the people of Kenya. Logistics, accommodation and food were also perfectly arranged for us - we could just enjoy the safari to the fullest!What a privilege to get a tour with such heart warming people that have incredible knowledge and passion for their work and all of this for an absolutely fair price. From now on, we will book all our tours with Icerock - upcoming next will be the Mt Kenya trekking and we cannot wait for it!
Verified
Fantastic Experience This was a once in a lifetime amazing experience. The team was highly professional and always put safety first. As a great bonus, they were also great company and very nice! I can highly recommend their services, and because of them I made it to the top; despite not being a very experienced trecker. James & Joseph took great care of me, and the organisation and execution was grand!
Verified
Unforgettable excursion to Mt. Kenya We did our annual Mt. Kenya assault with ICEROCK TREKKING in March, a school trip for 12-13 year olds. Joseph has efficiently managed our Mt. Kenya expeditions for more than 20 years! Of the 21 pupils, 12 summited, 8 got to Shiptons and one got to old Moses. Joseph has an amazing team of well trained, knowledgeable and caring porters & guides. The ever smiling chef & crew served us steaming delicious refreshments always on time at various stops on the mountain. To round it off, we were treated to a welcome surprise on the very last day to crown this unforgettable experience. We look forward to our next trip Deo Volente.Thomas Mong'are Cavina School.