Kilimanjaro
7, 8, 9 day itineraries
Top Routes!
Reach the roof Africa!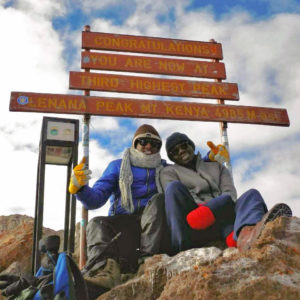 Mt Kenya
5 day itineraries
Less crowds, more scenery!
2nd highest in Africa!
Climbing
6-11 day itineraries
Mt Kenya specialists
Only 250 succeed each year!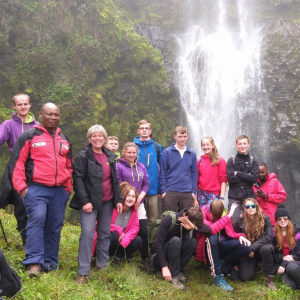 School Trips
Custom Mt Kenya itineraries
Comfortable with any size group trip!
Trip of a students lifetime!
Trekking
We specialize in helping both seasoned hikers and novice walkers achieve their goals of a rewarding expedition to the heights of Africa. We prefer guiding trips on three main routes to Kilimanjaro as well as three main routes to Mount Kenya. We also guide a trip to the Rwenzoris and Mt Stanley.
If you have conquered all of those mountain areas we can also create custom tours in the Aberdares, the Loita Hills, the Udzunga Mountains and other off the beaten path trips.
Climbing
Ice Rock Trekking is one of the few Kenyan tour operators that is qualified to guide technical rock climbers on trips to Mount Kenya. In fact the first name for our company was "Ice Rock Climbing" so we know how to plan and prepare for the needs of climbers which is distinct and different than trekkers. Only a few hundred people make the tricky climb to the true roof of Kenya and we are experts at providing informative and safe route descriptions and onsite guiding.
Safaris
A trip to Africa is not complete without seeing "the Big Five" which are the elephant, buffalo, rhinoceros, lion, and leopard. Safaris are an especially delightful experience to enjoy after the hard work of summiting some of Africa's highest peaks. Ice Rock Trekking can organize a tour that brings you up close and personal with amazing wildlife in their natural habitat. The Masai Mara is one of the world's treasures and something that should not be skipped when visiting Kenya or Tanzania. We can also organize gorilla safaris!
Let us help you
Ever imagined the excitement of summiting Mount Kilimanjaro Africa's highest mountain? Or climbing the awe inspiring and beautiful Mount Kenya? And coupling that achievement by celebrating with a unique wildlife safari? Whatever your taste for adventure, ICEROCK can delight you and your fellow travelers.
ICEROCK, a Kenyan tour company, is managed by Joseph Muthui Gathu, a pioneer mountaineer and graduate of the American National Outdoor Leadership School. He is a former member of Kenya's Mountain Rescue Team and spent 13 years working in the mountains before setting up Ice Rock Trekking in 1997.
Due to Joseph's superior mountaineering skills, coupled with his team of experienced professional guides, ICEROCK quickly became one of the premier companies offering mountaineering adventures in Africa. Joseph's professionalism and skills have been recognized by various travel books having been included in The Rough Guide To Kenya and The Lonely Planet's East Africa Trekking Guide which recommends him as a leading guide. Joseph's company has achieved further accolades through being selected as renowned mountaineer Tim McCartney Snape's choice for providing contracted services for his trekking climbs to both Mount Kilimanjaro and Mount Kenya every year.
Let Joseph and his professional guides help you safely experience a true African mountaineering adventure!
with the help of his guides
show you the way in Africa