Kilimanjaro
7, 8, 9 day itineraries
Top Routes!
Reach the roof Africa!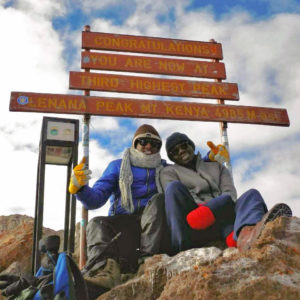 Mt Kenya
5 day itineraries
Less crowds, more scenery!
2nd highest in Africa!
Climbing
6-11 day itineraries
Mt Kenya specialists
Only 250 succeed each year!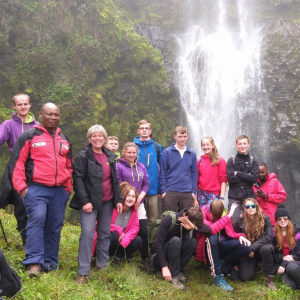 School Trips
Custom Mt Kenya itineraries
Comfortable with any size group trip!
Trip of a students lifetime!
Trekking
We specialize in helping both seasoned hikers and novice walkers achieve their goals of a rewarding expedition to the heights of Africa. We prefer guiding trips on three main routes to Kilimanjaro as well as three main routes to Mount Kenya. We also guide a trip to the Rwenzoris and Mt Stanley.
If you have conquered all of those mountain areas we can also create custom tours in the Aberdares, the Loita Hills, the Udzunga Mountains and other off the beaten path trips.
Climbing
Ice Rock Trekking is one of the few Kenyan tour operators that is qualified to guide technical rock climbers on trips to Mount Kenya. In fact the first name for our company was "Ice Rock Climbing" so we know how to plan and prepare for the needs of climbers which is distinct and different than trekkers. Only a few hundred people make the tricky climb to the true roof of Kenya and we are experts at providing informative and safe route descriptions and onsite guiding.
Safaris
A trip to Africa is not complete without seeing "the Big Five" which are the elephant, buffalo, rhinoceros, lion, and leopard. Safaris are an especially delightful experience to enjoy after the hard work of summiting some of Africa's highest peaks. Ice Rock Trekking can organize a tour that brings you up close and personal with amazing wildlife in their natural habitat. The Masai Mara is one of the world's treasures and something that should not be skipped when visiting Kenya or Tanzania. We can also organize gorilla safaris!
Let us help you
Ever imagined the excitement of summiting Mount Kilimanjaro Africa's highest mountain? Or climbing the awe inspiring and beautiful Mount Kenya? And coupling that achievement by celebrating with a unique wildlife safari? Whatever your taste for adventure, ICEROCK can delight you and your fellow travelers.
ICEROCK, a Kenyan tour company, is managed by Joseph Muthui Gathu, a pioneer mountaineer and graduate of the American National Outdoor Leadership School. He is a former member of Kenya's Mountain Rescue Team and spent 13 years working in the mountains before setting up Ice Rock Trekking in 1997.
Due to Joseph's superior mountaineering skills, coupled with his team of experienced professional guides, ICEROCK quickly became one of the premier companies offering mountaineering adventures in Africa. Joseph's professionalism and skills have been recognized by various travel books having been included in The Rough Guide To Kenya and The Lonely Planet's East Africa Trekking Guide which recommends him as a leading guide. Joseph's company has achieved further accolades through being selected as renowned mountaineer Tim McCartney Snape's choice for providing contracted services for his trekking climbs to both Mount Kilimanjaro and Mount Kenya every year.
Let Joseph and his professional guides help you safely experience a true African mountaineering adventure!
with the help of his guides
show you the way in Africa
Verified
Super experience of Mt Kenya with Icerock Trekking I felt our whole experience of Mt Kenya was amazing. From getting in touch with the organisers to the actual hike itself, we were provided with great service, super itinerary and lovely people. We did the Sirimon route both up and down, and although the weather could have been challenging, we manage to make the best of the weather possible. We were driven to the Sirimon entrance from Nanyuki where we were welcomed with lunch, followed by the hike up to Old Moses camp. The food throughout was excellent and didn't have any problems whatsoever. The views are stunning and our guide was lovely and super knowledgeable too. Would highly recommend Icerock Trekking to anyone who is looking for a challenge and adventure up some of the highest mountains in Kenya. Thank you guys!
Verified
Mt. Kenya Interim Hiking Mt. Kenya was a new experience during which I earned greater appreciation for God's creation and being immersed in it. I was very thankful for our guides who took good care of us and made good choices.
Verified
Incredible experience, absolutely recommend! Hiking Mt. Kenya with Joseph's team was an incredible experience. He was extremely communicative and helpful which made planning the trip extremely easy. Our guide, porters, and cook were all awesome - I have nothing but positive things to say. The food was delicious - the best I've ever eaten while on a mountain! It was all cooked hot for us and there was more than enough. Joseph also came to pick us up and stayed an extra night to drive us to a safari and then back to Nairobi. He was always on time, patient, kind, reasonable, and accommodating. I would HIGHLY recommend Joseph and his team to anyone and will choose to work with him again.
Benjamin F
March 24, 2023.
Verified
Only the best. I cannot express how wonderful the trip was. I found nothing to complain about, and everything, from food to hiking, was an amazing experience that I would recommend to any who like a bit of adventure.
Verified
Mt. Kenya Joseph organized the trip around my schedule and the guide, cook, and porter made it a very pleasant experience. Joseph always answered emails promptly and made last minute changes without a problem. I highly recommend his company and plan to use him in the future for Kilimanjaro and hopefully a summit of Batian on Mt. Kenya.
j0henley
February 17, 2023.
Verified
Joseph is excellent - a great guide and fountain of knowledge Could not recommend Joseph and his team more highly. Joseph used to work on the Mount Kenya Rescue Service so you could not be in safer hands for the challenging but stunning hike up Mount Kenya. Our climb was made difficult because of bad weather and visibility, with rain at the bottom and a lot of snow at the peak. The equipment provided by Joseph (tent, poles etc) could well withstand the incessant rain, and the team adapted well to the unexpected conditions. The vegetation and birdlife on Mount Kenya is truly unique and Joseph was able to answer every question we had and told some incredible stories (as Paul said in his review, ask him about the Buffalo - we were gripped!). All the food provided on the hike was delicious and at no point did we go hungry. Joseph provided a really helpful kit list and advice about staying safe and comfortable on the mountain. Joseph also organised a wonderful homestay for us with his brother (Robert) and his family who welcomed with hot showers and a huge meal. Joseph's knowledge extends far beyond Mt Kenya, and he can provide tips and advice on your whole trip, not just the Mt Kenya (or other) climbs.
Lisette K
February 17, 2023.
Verified
Mt. Kenya evacuation and great care from Joseph In November we decided to book a mount kenya trip for February. After doing some research online we came across a youtube video of Jasper Epsom who climbed together with Joseph. We got in touch with Joseph via email and the response was almost immediate. When he is not in the mountain without signal he is always reachable per phone or email. He explained us about the itinerary and the different options we could choose from. Based on that, we decided to go for the Chagoria-Sirimon route. It's a 5 day hike including all foods, drinks and pickup and drop off to Nairobi.10 days before our trip we both got a bacterial infection and after consulting Joseph we decided to move our start date which gave us a little more time to recover. Very very nice that this was possible in his schedule. Due to the fact that we moved dates, we climbed together with his brother Robin who is also a very experienced guide and can tell you all about the vegetation and the mountain in general. Joseph was also on the mountain guiding another group so we still spend time together in the camps! Mount Kenya is not only extremely beautiful but also very quiet. If you are lucky you see some animals and even birds are just sitting next to you at the tent. Unfortunately on the second day the bacterial infection came back with my partner and it went very bad in a short time. In the middle of the night we decided that we couldn't wait until the morning. Joseph arranged all the necessary transportation to get us off the mountain. Safety first!! Robin joined us for the entire travel to Nairobi and made sure we arrived safely in the hospital. After 4 days in the hospital he is out now, and finally walking again. We want to say a huge thank you to the great care and support of Icerocktrekking. In case you have any doubt about health and safety protocols, well.. we have experienced them ourselves and they are great 🙂 They take good care of you and in case you don't feel well they take it very seriously. Being sick is not great but being sick on the mountains is dangerous and good care is necessary. Even though we only had 2 days on the mountain, those 2 days were already beautiful. Highly recommend to climb mount Kenya in case you have the chance!
Verified
Incredible experience - recommend Joseph & the team provide an absolutely amazing experience of climbing up Mount Kenya. It's an astonishingly beautiful trek (but quite difficult!) and Joseph provides:1. Great character and humour 2. Great equipment (tent, food etc)3. Good advice (for avoiding altitude sickness, organising a Home-Stay etc)4. Incredible stories - ask about the Buffalo!Couldn't recommend more highly
Hadar Weinstein
January 7, 2023.
Verified
Mount Kenya and Maasai Mara trip!! As an 18 year old coming alone to Kenya for the first time, Joseph and the Ice Rock Trekking crew were extremely accomodating and friendly. Throughout my two week trip climbing Mount Kenya and doing safari in Maasai Mara and other national parks I felt very safe, while being able to experience the Kenyan culture. I fely very comfortable as Joseph was flexible and patient with me throughout the journey, while offering a more than reasonable price. Would highly recommend!!I can also suggest requesting Lofa as your porter. #1 chef in Kenya 🙂
Verified
The adventure begins at the moment Joseph arrives at our door! The adventure begins at the moment Joseph arrives at our door! As a family, we have climbed Mt. Kenya and Mt. Kilimanjaro with Joseph. He and his teams work so well with my early-teenage kids. Whether we are camping in tents or trekking to huts on the mountain, Joseph plans for safety and success. He deeply cares about his mountains and hopes his clients grow to love wild places, too. I'm looking forward to our next adventure!